Life Insurance For Smoker
You can get life insurance even if you are smoking. Your life insurance premiums may high than non-smokers. You may have to pay more cost on life insurance policies, because it is true that you have become smoker and your heart is not same as non-smoker. Before buying policies, they can check your health status.
There are many plans available and their premiums may be four time higher than a non-smoker. Now what are you thinking about quitting smoking?
In America, every year on third Thursday of November, people take part in the Great American Smoke out event and promise to quit tobacco and smoking.
Check out this How to Quit Smoking Guide for helpful tips.
I am taking this image from one website which has listed the health issues with cigarette smoking.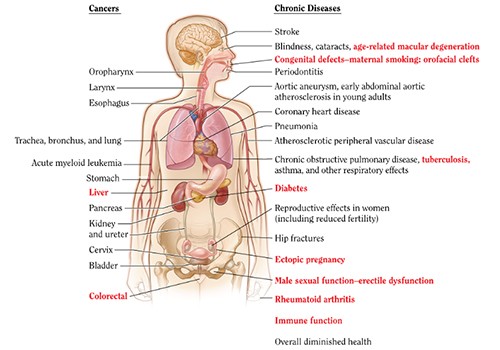 I know my 30 year old friend who do not smoke while we were study together. But after college, he went to BBA and MBA college and start smoking with his friends. He is doing job now for 6 years and still smoking. I used to tell him to quit smoking but he could not able to quit. I am writing live experience here. He took life insurance and paying premiums. He has proud that he bought life insurance, now what is the fear about. It is not fair.
You can take life insurance if you quit smoking. Just notify your life insurance agent and get it. Visit Myseniorlives.com for more information and top life insurance companies quotes comparison. If I am a chain smoker and I die unexpectedly, what will happen of my family members. Do not late. Get It now!